02 SEPTEMBER 2022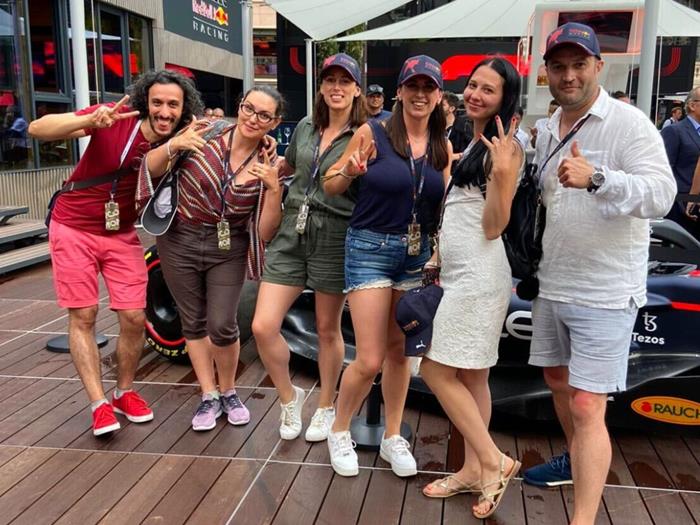 Amongst the glitz and the glamour of the 2022 Formula 1 Monaco Grand Prix, three lucky PokerStars colleagues and their guests joined us for an epic weekend of high-octane race action.
As part of our partnership with the championship-winning Oracle Red Bull Racing team, PokerStars earlier this year launched our first customer-focused collaboration, known as the Red Spade Pass, which is all about rewarding our community and offering PokerStars customers F1 experiences they'll never forget.
We felt our colleagues should also get a piece of the action so after an epic company-wide prize draw (a virtual marble race), we flew three lucky staff winners and their guests out to Monaco at the end of May to witness the seventh race of the Formula 1 season. They got to spend three days at the iconic Red Bull Energy Station arriving by helicopter and then speedboat in true VIP style, along with access to grandstands overlooking the pit lane where they were busy celeb-spotting the likes of Naomi Campbell, Kit Harrington and Patrick Dempsey!
With Oracle Red Bull Racing driver Sergio Perez taking the chequered flag, it was an experience to remember. We recently caught up with some of our lucky colleagues to relive their experience in the sovereign-city state.
"Winning tickets and VIP Hospitality with Oracle Red Bull Racing for the Monaco Grand Prix was a trip of a lifetime! Such an amazing weekend watching the build-up and the race itself, and even better that I could share it with my sister too. Working at PokerStars over the last 12 years has given me so many opportunities like this and I still can't believe how lucky I am."
Jo-Ann Barron – Senior Gaming Tax Manager based in Isle of Man
"I have been at PokerStars for more than eight years now and what has kept me motivated all this time is working with amazing people that know when to work hard as much as when to play hard. Monaco was the cherry on top of these eight years, an incredible opportunity to see the PokerStars spirit in action within the adrenaline-filled arena of F1. What's not to love about it? Spectacular racing topped by the best hospitality we could imagine, a once in a lifetime event that I had the privilege of sharing with some exceptional colleagues. Plus, I got to have a selfie with the winner of the Monaco GP."
Alessandro Corrai – Business Integrity Assurance and Technical Risk Senior Analyst based in Dublin
"The Monaco F1 Grand Prix adventure was amazing, it has created some beautiful, long-lasting memories. The thrill of feeling the sound of the cars was amazing, and with Red Bull Racing taking the victory, it makes these memories all the more special. I have met and made friends with some wonderful people and colleagues with whom I will share these unforgettable memories."
Nikolay Ivanov – Technical Service Desk Analyst based in Bulgaria