31 AUGUST 2023
Meet Tanvi our Test Manager in Hyderabad. From the moment Tanvi dove into the world of testing, her passion for unraveling complex codes and uncovering hidden bugs was undeniable. She firmly believes in the quote 'Quality is not an act , it is a habit'. A good tester has got to be curious, focused, think logically and have dissect-ability so that they can uncover the unexpected. The journey began with a spark, fueled by curiosity and the thrill of conquering challenges.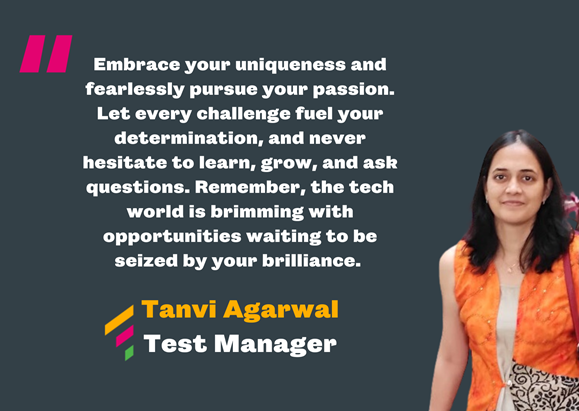 At the core of Tanvi's journey is an unyielding drive to challenge norms and inspire change. She finds inspiration in every hurdle she overcomes, knowing that her achievements open doors for others. The support of her family, the camaraderie of her team, and the boundless potential of the tech industry keep her pushing forward.
To all the ambitious women in India aspiring to embark on a career in testing, Tanvi's advice is a guiding light. Embrace your uniqueness and fearlessly pursue your passion. Let every challenge fuel your determination, and never hesitate to learn, grow, and ask questions as learning is inevitable. Remember, the tech world is brimming with opportunities waiting to be seized by your brilliance.