01 MAY 2023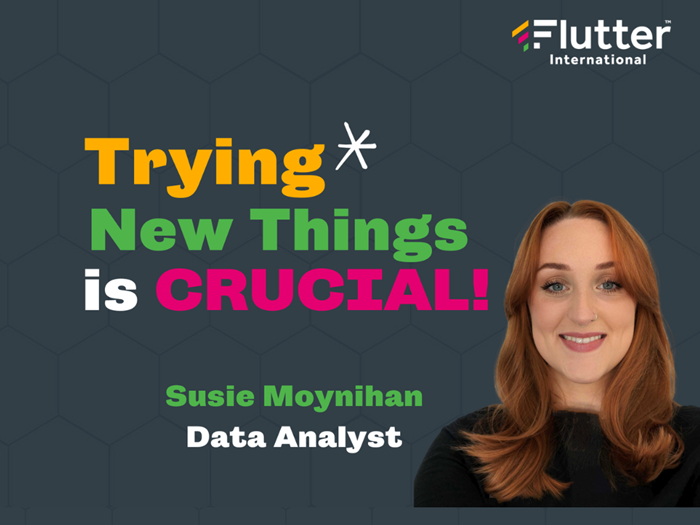 Employee Spotlight: Meet Susie Moynihan, Data Analyst, NLP
Describe your career journey so far at Flutter International, working with the with PokerStars brand?
I started at PokerStars 2 years ago in March 2021 as an Automation Business Analyst on the Robotic Process Automation team based in Dublin. While I enjoyed the technical aspects of the role and learning about the many processes and teams across the business, I found that I wanted to spend more time working in a technical space and less so on the project management and stakeholder management side.
In my Computer Science degree I particularly enjoyed the data related modules and so I came to the conclusion that I wanted a Data Analyst role to be the next step for me. I had also decided around the same time that I wanted to move out of my hometown in Dublin to London! In April/May of 2022 I expressed these thoughts to my manager who told me that they were soon to be advertising a Data Analyst role on the NLP team within the Automation function. I applied and was delighted to get the position in which I started in July 2022. Flutter International also facilitated my move to London by going through the relocation process and I have been living and working in London since August 2022!
What do you think helped enable you to move between roles and how have you found the transition?
I think open communication between my line manager and I was what really enabled me to move between roles so seamlessly. We were able to find a solution that meant we were both happy – I moved to a role that was more suited to my strengths and I was able to stay within the automation function!
I have found the transition very smooth, mostly down to the fact that I already knew my new team and manager from our function All Hands calls and I was aware of the work they were doing which made it easier for me to pick up any new information. Due to the large amount of remote working I was doing in Dublin, there has been very little adjustment to working in London as I still have the benefit of working from home.
What would you say to someone who may be considering what their opportunities are and how to go about exploring these options?
I would say to reach out to your line manager and let them know what you're looking for and they may just have the perfect opportunity waiting for you! I also found it useful reading the job descriptions of open roles across Flutter to get a feel for what exactly the different roles entail and what opportunities were out there.
What's the one thing you would say is fundamental for career development?
I think an obvious answer would be setting long and short term goals to help you get you to where you want to go in your career but I would say that keeping an open mind is fundamental for career development. Trying new things to help find what you do and don't like is crucial. A lot of the time we assume we won't like something but you'll never know unless you try it and if you hate it then at least you know what to avoid in the future! Keeping an open mind will help you find where you want your career to go and setting goals will help you get there.
Want to join the future of entertainment? Check out the latest opportunities in Automation and apply to join us today!