29 NOVEMBER 2022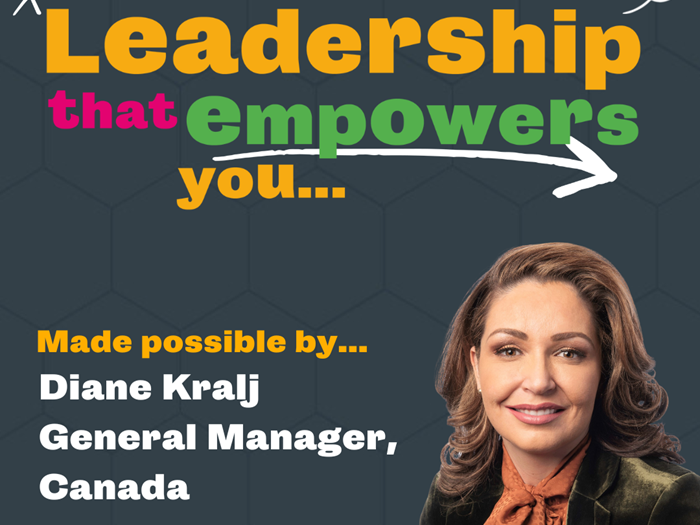 "Flutter International has been taking positive strides to empower female leaders. With several new programs and career opportunities, these initiatives show the potential to advance and grow within the organisation."
Our colleagues across the globe continue to make a World of Difference, empowering each other to be the Player's Champion. But how does our leadership team work alongside colleagues to ensure development and growth on a daily basis?
As part of our "Inside our Leadership team" series, we sat down with General Manager of Flutter International Canada, Diane Kralj, to discuss her role within the company, why Flutter International is the perfect career opportunity and how we are empowering women to progress and develop their careers.
An experienced leader
With 15 years of experience in the MarTech space, Diane has worked in industries ranging from gaming and fintech right through to hospitality. Her career path has stemmed from leading and developing digital transformation alongside designing business strategy plans, working on the framework to modernise OLG business and implementing the first ecommerce model within a 'crown agency'.
'These monumental achievements were so rewarding as they showcase teamwork, collaboration, and new thinking. I truly believe the gaming industry is now the perfect fit for me. My role provides me with the opportunity to utilise my experience and embark on new challenges. I'm excited that I get to work with so many colleagues across the globe. The opportunity with Flutter International empowers me to challenge the status quo and collectively develop and implement local strategies that help to drive employee engagement.
'My responsibilities include leading the overall local employee engagement and operations strategy, activating programs that generate awareness. ​I craft a stellar, high-touch employee experience for all teams, operationalise our values, engage and retain colleagues, and ensure that our team experiences a sense of belonging and continuous growth.​'
The perfect career opportunity
Joining Flutter International in January 2022, Diane's start to life with the company came during lockdown in Canada. Despite having hurdles to navigate, she was able to quickly get up to speed on projects and immerse herself in the world of iGaming thanks to 'welcoming' colleagues across the globe.
Diane believes there are a number of positive reasons as to why a career with Flutter International is the right choice, with opportunities for professionals to grow their careers both in the gaming industry and within the business.
'Since PokerStars was acquired by Flutter Entertainment, we have been able to introduce the brand into new markets. There so many positive reasons to work here – but what I appreciate the most is that we have a people-first mindset. Colleagues are given the opportunity to weigh in with their feedback and share their experiences. Everyone's opinion matters. The organisation strives to ensure that employee engagement and retention are always kept at the forefront of everything we do. We are constantly thinking of new ways to encourage collaboration and empowerment.
'You have the chance to participate in several company-wide programs and explore opportunities that align with your own goals. Global-led initiatives allow colleagues to build their profiles with new team members – a great way to network and gain insight into other markets. The learning and development opportunities also give employees the option to build a path that is customised for their own needs.'
When reflecting on growth, Diane is quick to note the work underway to ensure we are empowering female leaders within the business. There are several new programs and career opportunities that provide a potential to develop within the organisation, with mentoring programs designed to help connect with leaders who can share their own personal experiences.
'Embracing new change, together'
Despite only joining the company at the start of the year, Diane has already embraced the wonderful world of iGaming. She has already identified a number of key skills and traits that can help personal development and can clearly see what makes Flutter International an employer that stands out from the competition.
'Collaboration and communication are the fundamental traits that all leaders require. They are needed to develop relationships and build trust. As the business grows and changes, you must be prepared to pivot and change. Adaptability is a skill that one must learn to embrace as it shows your willingness to learn and grown. Accountability is key as you must also take ownership.
'Flutter International recognises that adaptability is vital. There is ongoing support and effort that showcases their commitment. As the business evolves, we need to re-evaluate if we are prepared to pivot. Assessing the current landscape and identifying new opportunities are always a priority. As we go through such a process, Flutter International is also committed to collectively gather feedback. This way we can embrace new change together and goals/objectives are clearly communicated.'