23 JUNE 2022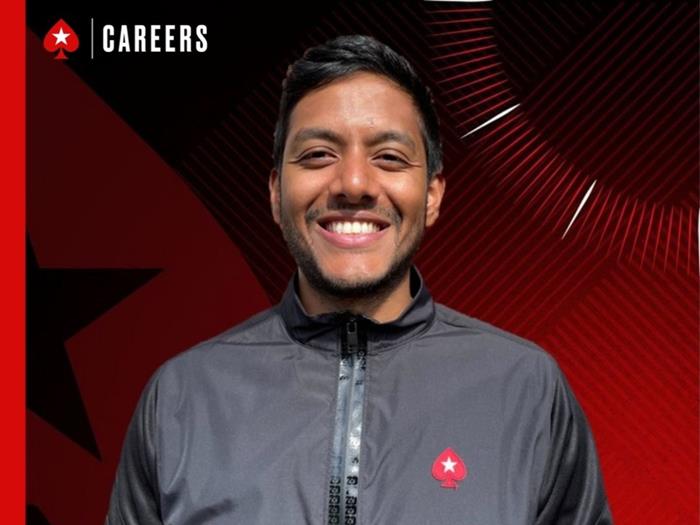 Our colleagues are the beating heart of our customer offering, ensuring that players far and wide experience a first-class service on a daily basis.
But what do we know about some of the individuals that oversee the smooth running of our departments across the globe?
As part of our 'Inside our Leadership team' series, we talk to Head of Product Data, Rajiv Badal, who joined PokerStars in 2021 to lead our Product and Analytics capability.
An 'exhilarating' experience
Rajiv oversees two areas of the Data & Analytics tribe in the role of Head of Product Data, with eight colleagues working under his guidance. He describes his career with PokerStars so far as 'exhilarating', with a number of additional responsibilities of his own choosing contributing to a thrilling career in iGaming so far.
'We're seeing large investments in our data and insight capabilities, so I've had the opportunity to lead an initiative to deliver a brand-new product analytics experience. That was very exciting for me.'
'In addition, I've since taken on many other responsibilities of my own choosing! One of which is coaching our Data Product Owners, which is a relatively new function within the Data & Analytics tribe. It's been fulfilling growing the team from 0 to 5… and knowing our leadership teams are in full support.
'I'm being pushed and stretched in different ways, and it is a challenging, but that's what motivates me to be a better version of myself. I'm big into personal development and growth.'
Here, Rajiv answers some questions to give us an insight into his leadership role at PokerStars.
PokerStars: What do you define as good leadership?
Rajiv Badal: Not exhaustive, but here are some of the key things I want from my leaders, and as such, look to provide to my team:
Availability – Time to connect regularly and keep informed and in sync. Ensure we're happy, as that's when we produce our best work
Vision – Provide the target for my team to strive for, and the boundaries they should operate in
Coaching – Helping my team overcome day-to-day challenges, and eventually expand their area of responsibility – to grow their careers
PS: What is the best thing about managing your team?
RB: The variety of people. We have different personalities, skill sets, cultures in the team. That's representative of the wider organization too. Seeing all of these things clash, and trying our best, collectively, to find something that overall does work is something I value highly as a people manager.
PS: What have been the biggest challenges you've faced when managing people?
RB: Striking the right balance between helping others and helping myself. I manage eight colleagues in total, and I really want to be a great manager for them. I hope I am. Sometimes I will prioritise work which I know will be of eventual benefit to them, at the risk of slipping on my own responsibilities.
All of that is potentially a symptom of ineffective delegation, but I'm always learning.
PS: How are you involved with attracting, retaining, and developing talent within your team?
RB: I'll break this down.
Attracting:
Within the Data & Analytics tribe, we're going through a sea of transformation, due to a recently defined data strategy
I've been supporting identification of teams required to make our vision a reality. In addition, if anyone applies for a product role within the Data & Analytics team, I will likely be the hiring manager
Retaining:
Strict focus on ensuring my team is happy, performing and feeling supported. Recognition and reward will follow
Developing:
I push this agenda with my team – sometimes too hard and fast! Majority of my team have either made use or will be making use of their 2022 external learning or personal allowance budgets
Outside of external development opportunities, there are always opportunities to take on new responsibilities (or even roles) and expand your remit. Helping my team members identify where they can make a meaningful impact and be happy doing so is important.
PS: How do you keep your team engaged and motivated?
RB: First, it's important to focus on individuals, as how they feel engaged or motivated will differ.
At a team level, regular comms (i.e. slack / email), check-ins (121s, office meets, stand-ups) and socials are a few ways we help ensure engagement, and keep members focused on upcoming objectives.
PS: What are your hopes for the future of your team?
RB: Just that we continue to be happy, respectful and feel fulfilled in the roles we are performing.
PS: What is one piece of advice you were given during your career which you remember most?
RB: Keep up with the fun attitude, you help the team in ways you can't comprehend, or something similar. Work can be serious, but that doesn't mean it can't be fun.
PS: What would you advise young professionals, so that they'd be able to climb the career ladder in their organisation?
RB: Be ambitious, be inventive, be self-aware.
Keep an eye out for more of our 'Inside our Leadership team' content coming soon.