30 MARCH 2022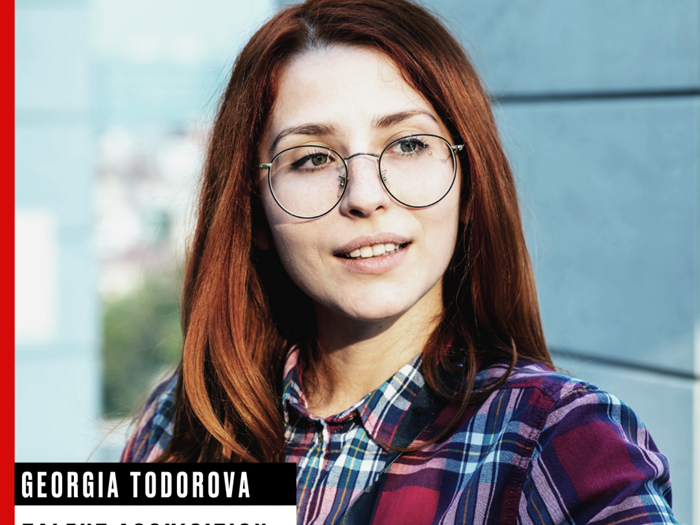 I like my job because I can see the result – successful candidates who grow in their careers and managers who rely on me to find the right people.'
In the second instalment of our PokerStars First hand series where we are introducing the aces behind the scene, we meet with Georgia Todorova, Talent Acquisition Expert.
A gaming fanatic, Georgia has a passion for computer consoles, board, book and team games. You name it, she probably plays it! Our TA Expert believes that this is a great icebreaker for new recruits, and instrumental when introducing yourself in an informal setting.
A modern day challenge
Stepping up from a specialist to an expert can be a daunting task for many but doing so when returning from maternity leave is a different challenge entirely. After the birth of her daughter, Georgia saw the opportunity to advance her career, and now she works closely on data-driven recruitment and trends that drive us forward every day.
Georgia believes it's the data that gives PokerStars an edge over the competition.
'At PokerStars, we monitor different metrics during the selection process and aim for improvement in areas such as number of successful applications, candidate engagement, excluding bias.
'I think that there are very few companies here in Bulgaria that pay so much attention to the data outputs during the recruitment cycle and I feel lucky to deal with it daily.'
Personal Development
We want future colleagues to know there are plenty of learning and development opportunities available to all staff, giving everyone the ability to improve on a personal and professional level.
Whether this is through free access to training platform Udemy (offering more than 183,000 courses), personal interest allowances or mentorship programmes, there is something for everyone.
Georgia knows this plays a key part in recruiting top talent and sees it as a major benefit for the company.
'The pandemic, which in my case overlapped with a pregnancy and raising a child, was an ideal opportunity to take time for myself and focus on self-improvement.
As a professional, I have always developed my technical skills. As it turned out, my work is related to data processing and it's important for me to have access to training that would help me in this direction. I have already taken advantage of an Excel course, as well as training related to my work for our Diversity, Inclusion and Belonging Committee.
Of course, the courses we choose do not always have to be related to our work. During my maternity leave, I started playing the ukulele to entertain my daughter, and I was delighted to find additional music courses on the platform.'
Georgia's top recruitment tips
Have you considered applying for a role at PokerStars? We quizzed Georgia for her top tips for those considering a career with us.
Preparation – Take time before the interview to research the company, the interviewer and the role
Technology – Ensure your device, software and internet connection are fully prepared for your interview
Concentration – Try to minimize distraction. If you are not feeling well, it's always better to move an appointment than to try and win over the interviewers while sniffing
Questions – We will always leave time for questions, use this opportunity to learn more and show your interest in the role
What we look for at PokerStars
We couldn't end this interview without asking our expert what she looks for in potential candidates. We want candidates who:
Will listen to our customers and do everything with thought and care for them
Constantly strive for improvements and highly value the skill and desire to learn
Value teamwork and support our colleagues to share knowledge and skills freely
Visit our jobs page to explore our latest opportunities. For more information on our culture and what it means to be part of our team, visit our our blog and social media pages.