08 APRIL 2022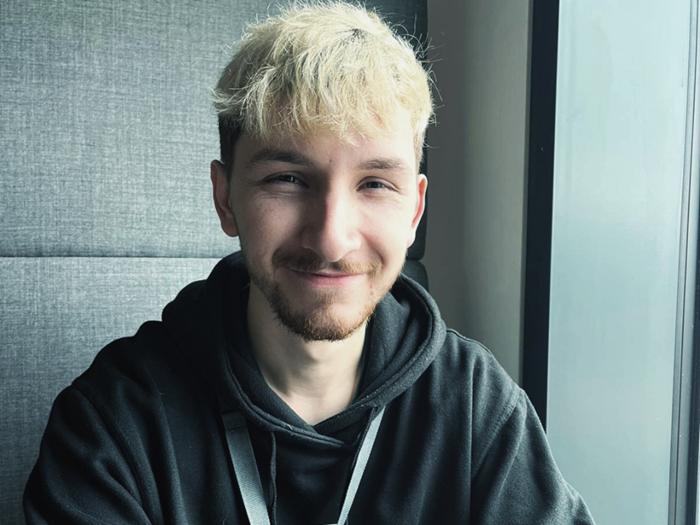 Even after the first few days I already absolutely loved my new career at PokerStars. My colleagues were very welcoming and made me part of the team immediately.'
Meet Jordan, a Junior UI Designer based in our new Leeds office. Joining the Company in April 2021, Jordan is part of our Player Account Management Tribe that delivers seamless experiences that support the core gaming activities at PokerStars. Working across poker, casino and sports betting, he provides a tailored and consistent experience to our customers across the globe.
A personal achievement
After leaving university, it's fair to say Jordan's venture into a working career was a world away from the position he currently occupies at PokerStars. Previously employed as a Graphic Designer and Videographer, Jordan admits it was a 'an amazing feeling' to be given the opportunity to finally become a UI Designer, having built up an impressive portfolio of relatable work during the last four years of his education.
He is 'truthfully grateful' for the chance he's been given, and looking back on his new career, Jordan knows what advice he would give his younger self on those first few days at PokerStars.
'I would advise myself and anyone starting the role to be patient. Work will come to you, so try and take as much information on board as you can, because in the long run it will be beneficial.'
Learning on the job
Responsible for creating designs for new components, designs for screens going into user flows and maintaining and updating our current tool kit in Figma, Jordan has learnt plenty since starting his career at PokerStars.
As he continues to collaborate with UX architects and designing user flows, Jordan has developed on a professional and personal level as a Junior UI Designer.
'My storytelling, presentation skills and confidence have all improved. I'm happier with the work I produce and my UI Design ability has benefitted. Udemy (an online learning and teaching marketplace) has been a big help with getting used to the tool we use at PokerStars and I'm also planning to apply for a future course which will help develop me as an individual.'
Win Together
'Win Together', 'Passion for Players', 'Empower and Own'. Our three values are the foundation of everything we do here at PokerStars and help us strive towards our goals.
It's the former that Jordan appreciates most, knowing that he can always rely on his colleagues and line managers.
'Whenever I need help, they are always there for me. They are loving, caring and supporting, and in return I will do anything for my team if needed. I'm a person who loves teamwork and caring for the team. That's why the 'Win Together' value is my favourite.
'The people at PokerStars are a big plus. Everyone is super nice and the benefits of working for the Company are better than anything I've had in a previous job. I'm cared about and we're all treated as equals.'
Are you interested in working for PokerStars? We're currently hiring UI and UX experts on different seniority levels to join our Product Design team. For more information on the roles available, click here.
Your next chapter starts here: are you in?