18 SEPTEMBER 2023
Innovation is the lifeblood of any successful organization, and at Flutter International, it's no different. Meet Rachel Webb, our Innovation Manager, who joined us on November 30, 2020, as an Innovation Specialist in the Automation Org under the guidance of Andrew Callow. In just two years, Rachel has played a pivotal role in driving innovation within our company.
Ideation Platform - Ideanote
One of the key milestones achieved during Rachel's tenure is the creation and implementation of Ideanote, our cutting-edge ideation platform. This platform has revolutionized the way we approach innovation, particularly in the PokerStars Customer & Product Org. Ideanote serves as a hub for collecting and nurturing ideas from various departments, fostering inter-departmental collaboration. It's the perfect tool for building and supporting an innovative pipeline across teams.
Supporting Research
Rachel's team also plays a crucial role in supporting both internal and external research requests, with a particular focus on Third Party initiatives. This commitment to research helps us stay ahead of the curve, ensuring that we are well-prepared for future challenges and opportunities in the ever-changing landscape of the gaming industry.
Rachel's Passion for Flutter International
Rachel's enthusiasm for her role at Flutter International is palpable. When asked about what she likes most about working here, she highlights three key aspects:
Collaborative Environment: Rachel appreciates the collaborative work environment where players and colleagues are at the core of every decision. Ideas are not only valued but are seen as the driving force behind our mission to create epic player experiences. Everyone works together as a team, united by a shared goal.
Continuous Improvement: At Flutter International, there's a constant appetite for change and improvement. Rachel notes that this drive for enhancement extends to processes, systems, products, and tools. The organization is not afraid to push boundaries in pursuit of better customer and colleague experiences.
Learning and Development: For Rachel, the opportunities for personal and professional growth at Flutter International are exceptional. The company offers a wide range of resources, including webinars, courses, programs, power hours, and career weeks. These resources cater to diverse needs and empower employees to evolve and excel.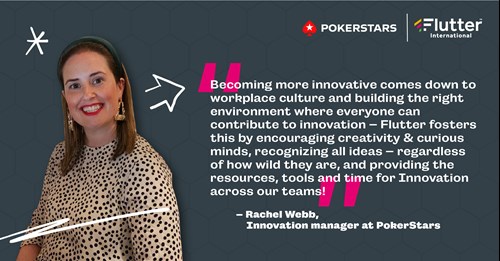 Cultivating a Culture of Innovation
Innovation isn't just a buzzword at Flutter International; it's ingrained in our culture. Rachel believes that fostering innovation comes down to building the right workplace environment. Here's how we encourage a culture of innovation:
- Encouraging Creativity: We value creativity and embrace curious minds. Everyone's ideas, no matter how unconventional, are recognized and considered.
- Providing Resources: Innovation requires resources, and we ensure that our teams have the tools, time, and support needed to drive innovation forward.
- Agile Working: Our agile ways of working provide the flexibility to explore new ideas and adapt to changing regulatory markets swiftly.
- Cross-Team Collaboration: Collaboration is key, and teams across Flutter International work together to identify, manage, and share insights on emerging technologies and market research. This keeps us informed and ready for the future.
Rachel Webb and her team are at the forefront of innovation at Flutter International. With their dedication and the company's commitment to fostering a culture of innovation, we're poised to continue delivering outstanding experiences to our players and colleagues while staying ahead in the gaming industry. Rachel's passion and the organization's values are a winning combination that keeps us moving forward, always ready for the next innovation.