14 FEBRUARY 2023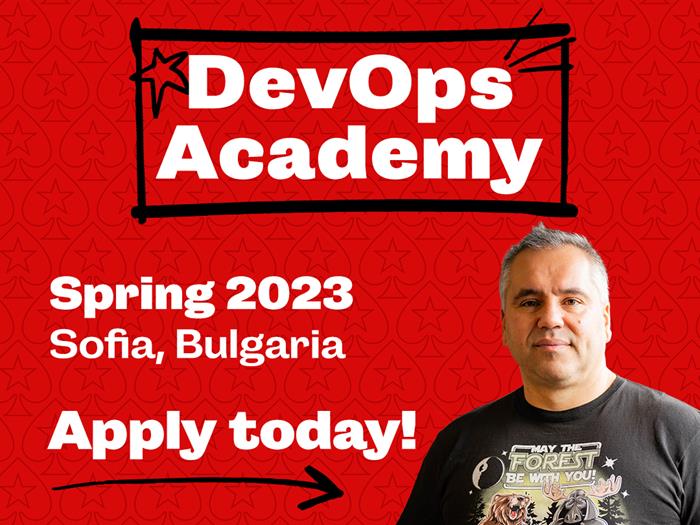 At Flutter International, we embrace the development of talent as a top priority. We provide a World of Opportunities, and our latest venture will ensure the next generation of Software Developers have all the tools they need to kickstart their career.
Introducing the PokerStars DevOps Academy, a 12-week training course tutored by internal experts in Sofia, Bulgaria. Situated in our newly refurbished Goldline office building, candidates will obtain a solid knowledge of key technical and process concepts, with 12 different modules included within.
Opening in March of this year, the DevOps Academy offers:
A 12-week full-time, onsite, unpaid training course that covers the fundaments of modern IT frameworks
Multiple hands-on practice modules
Experience with some of the newest technologies in the industry
An opportunity to join one of the PokerStars DevOps teams upon successful graduation
A fresh start
Candidates are not required to have any previous experience in the field, but must be motivated, thoughtful and have a desire to develop and unlock their full potential.
Martin Agayn, Engineering Operations Manager at PokerStars, has welcomed the creation of the PokerStars DevOps Academy, believing it is the perfect opportunity for individuals looking to kickstart their career in the industry.
'The DevOps Academy is a unique programme tailored to people starting their DevOps journey. Successful graduation would mean practical knowledge in multiple tools and concepts that are universal for the IT industry and in extremely high demand on the labour market.
'The DevOps discipline and skillset are in constantly increasing demand on a global level. Flutter embraces the development of talent as a top priority, thus we decided to give a chance to individuals without any previous experience. The most effective way to properly upskill a DevOps engineer is to allow them to learn directly from our top technical experts and managers, so we decided to kick off our own DevOps Academy. '
Discover a World of Opportunities
Looking for an opportunity to kick-start your career? To submit your application and get more information on the DevOps Academy, visit the dedicated page here.